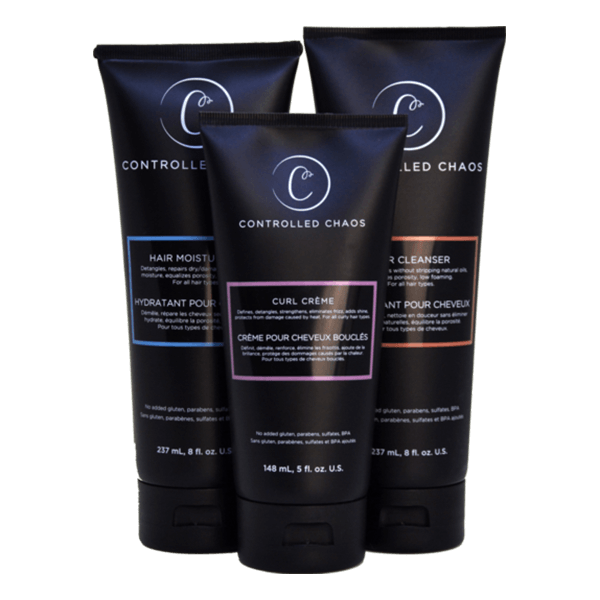 My favorite product!
As owner of "De curl hairdresser van Helmond" Hair fashion Monique
I have been using the latest products of controlled chaos from America for a long time with great pleasure!
It is a miracle cure for curls!
No fluff but a nice bouncy curl with shine!
The most important points in a row,
prevents fluff
adds shine
protects against heat
no added glute.
without parabens
without sulfates
Bio and Vega
not tested on animals
How I do that,
Watch my videos, me and my curls ritual
A must have is the hydrophilic cloth, to be used for a deep treatment.
Moisterizer in, put your hair in the cloth, knot together at the back, and let this sit for half an hour.
I use these myself when I have added wet hair, moisterizer and curl cream in my still soaking wet hair.
To gently squeeze my curls with the cloth.
This already extracts moisture, but no food!
Another must have with this curling ritual is the the nebulizer!
Before updating the days after so that your curls continue to shine without fluff!
squeeze the moisterizer with hot water, shake and ready to use.
I myself spray a little of this on my hair, shake it loose, squeeze a little curl cream in 5 to 10 minutes diffuser.
Facebook & Instagram
On our facebook page Hair fashion Monique you will find a lot of information about curls.
Or instagram page @Hairwear_monique
Order products,
My customers are also a big fan of our controlled chaos products, you can order via the webshop: Webshop Hair Fashion Monique
Appointment
call us for an appointment, every day during office hours
Call us