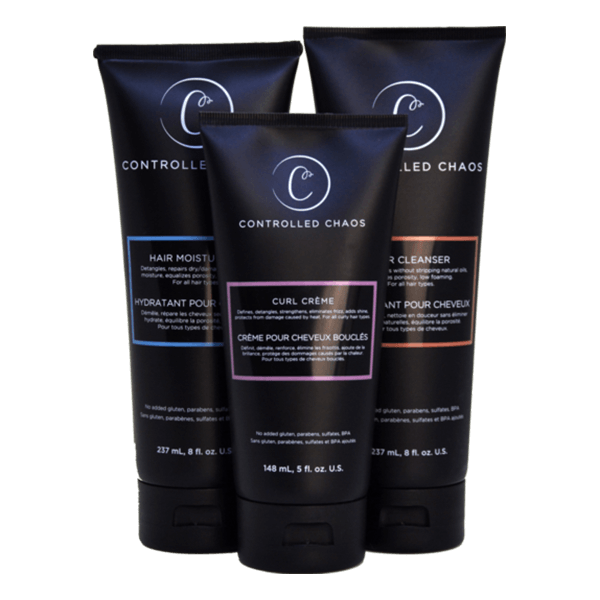 Controlled chaos
tips for using controlled chaos,
The best working curly products!
The curl cream, moisturizer and shampoo together provide the most beautiful curls.
You probably want to keep your curls under control right?
Have you already spent so much money on various promising curl creams?
Then stop searching now and try the 3 top products Controlled Chaos.
Your curls are unique and every curl needs care.
We promise you'll get your bouncy, soft, shiny curls back.
Created / developed by a hair stylist from the USA with curly hair. With feedback from hundreds of her curly clients.
This line of curly products will get your 'exploded curls' back under control and give your curls resilience, shine and protection against UV radiation so that it does not dry out.
Packed in a BPA-free packaging, not tested on animals, 100% organic and Vega.
Which curl (type) do you have? "
In addition, under the heading 'videos' you will find a tutorial from Monique in which she explains exactly how you can get your beautiful curls back under control.
After all, you have nothing to lose… only to win!
To begin with, it is important to find out what type of curl you have in order to choose the right treatment. The method below was created by Andre Walker, the hairstylist for The Oprah Winfrey Show.
2A Light "S" waves in the hair. The hair is close to the head and curls do not spring up.
This is often fine and thin hair and is easy to style. Can easily be made straight or curly.
2B Slightly more "S" waves in the hair than in type 2A. This type is also close to the head and does not bounce. This hair type is a bit more difficult to style than 2A and tends to frizz (frizz)
2C This hair is often thicker and coarser in texture and has more curls than types 2A and 2B. This hair type is more difficult to style and you will also suffer more from frizzy hair. Often this hair type has a steep bottom layer or a more curly bottom layer (pipe curls).
3 Curly hair ranging from light to very curly with clear curl definition and bouncy. This hair is easy
curly to style or blow-dry straight. Even if you sometimes don't see it directly, type 3 curls are generally more fine than coarse in texture.
3A Type 3A curls have a clear "S" pattern.
Curls are well defined and spring up. The curls are naturally large, loose and often shine beautifully. 3A curls have a sidewalk chalk diameter. In general, this hair type is easy to straighten. Also, the appearance of 3A curls is highly dependent on the climate.
3B Curls that are very defined, bouncy and voluminous. Ranging from springy ring curls to tight corkscrew curls. The diameter is the size of a highlighter. This texture type is difficult to straighten, but it is possible. 3B curls generally don't shine very much and the texture can be quite coarse.
3C Tight corkscrew curls, a lot of volume and a diameter of a pencil or straw. The curls can be kinky
(zigzag curled) or very tightly curled with a lot of hair packed together. In general, it is possible to straighten this hair type, but it is much more difficult than with hair types 3A and 3B. 3C curls often have a fine structure.
4A curls are tightly rolled and have an "S" pattern. The hair is more hydrated than 4B curls and has a
clear curl pattern. The diameter of the coils is close to that of a crochet hook.
4B This type has a "Z" pattern and less defined curls. Instead of curling around or spiraling, it bends
4B hair with sharp corners like the letter Z. This hair type feels cotton-like. This is very fragile hair, so be extremely careful when styling it! This hair type can vary from fine and thin to string coarse with very many strands tightly packed. 4B curls shrink up to 75% of their actual length.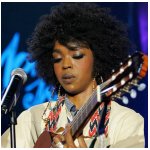 4C This hair type consists of curl patterns that almost never stick together as a whole.
The structure of 4C curls can range from fine, thin and super soft to stringy, coarse with tightly packed hair. 4C curls are described as a "bigger challenge" than 4B curls. Some say that 4C looks the same as 4B except that the hair is curled so tightly that there is little curl definition. 4C curls can shrink more than 75%.
Usage and product information
Controlles chaos curl cream
USE
Do you have bad 'exploded curls' is not enough for the curl cream alone. Exploded curls need moisture and nourishment, and you can achieve this by using the moisturizer next to it.
Apply to clean, wet hair. Always start at the ends of the hair (be sparing at the scalp, avoid the roots). Divide the hair into sections for treatment. Take a small amount of cream and spread it on your palms. Apply the cream carefully to your hair and make sure you hit everything curls well. Where there is no cream, there are no soft bouncy curls and it remains fluffy. Comb / brush it well. Then you will knead (crunch) and / or twist the curls in your hair. If you don't understand what we mean by turning those tufts, watch a video. Wrap tufts of hair around your finger for an extra curly effect.
Extra plus, you do not have to rinse the 'original curl cream'.
Air dry the hair or use (our advice) a diffuser for extra volume. DO NOT touch your hair until it is completely dry. During drying, the product fixes around your hair and you disturb the process. Once dry, but your curls still seem wet or too defined (too tight), shake them loose from your scalp. Put your hands in your hair and shake. For best results, watch our styling videos for your curl type.
Advice: We advise you to use the moisturizer in case of a bad 'Exploded' curly bunch to achieve the promised result.
Success guaranteed.
INGREDIENTS
Water (Aqua), Cetearyl Alcohol, Behentrimonium Methosulfate, Cyclopentasiloxane, Lanolin, DimethylSulfone (MSM), Amodimethicone, Hydrolyzed Soy Protein, Aloe Barbadensis Leaf Juice, Butyrospermum Parkii (Shea Butter), Simmondsia Chinensis (Jojoba) Seed Oil Tea) Leaf Extract, Lavandula Angustifolia (Lavender) Flower / Leaf / Stem Extract, Chamomilla Recutita (Matricaria) Flower Extract, Rosmarinus Officinalis (Rosemary) Leaf Extract, Carthamus Tinctorius (Safflower) Seed Oil, Cocus Nucifera (Coconut) Oil, Glycine Soy (Soybean) Oil, Helianthus Annuus (Sunflower) Seed Oil, Olea Europaea (Olive) Fruit Oil, Theobroma Cacao (Cocoa) Seed Butter, Cinnamidopropyltrimonium Chloride, Helianthus Annuus (Sunflower) Seed Extract, Panthenol, Hydrolyzed Flax Protein, Ascorbic Acid (Vitamin C), Tocopheryl Acetate (Vitamin E), Fragrance, Hydroxyethylcellulose, Cetyl Alcohol, Cetrimonium Chloride, Butylene Glycol, Trideceth-12, Propylene Glycol, Phenoxyethanol, DMDM ​​Hydantoin, Disod ium EDTA, Triethanolamine, Iodopropynyl Butylcarbamate
Controlled chaos moisturizer
An all in one, ultra moisturizing product. It prevents your hair from drying, breaking and frizz. In addition, this moisturizing cream also protects colored treated hair. It can even be used as a mask for extra dry hair and does not necessarily have to be rinsed out. With this product, you really have to look at and test what your curls need.
Repairs, moisturizes, restores porous hair, pH balance
For all hair types
Free from gluten, sulfates, parabens
Vegan; packed in a BPA-free packaging
Rich cream with a hint of jasmine
pH of 4.72 for color retention and hydration
Can be used as a deep treatment
To make a self-made care product using a nebulizer
IN THREE STEPS TO BEAUTIFUL HAIR.
PREPARATION Use this moisturizer to strengthen your hair, to repair split ends. This pH-balanced formula also protects color-treated hair.
APPLY After cleansing the scalp:
For fine hair; Apply the moisturizer directly to the wet hair, working from the tips to the roots, trying to avoid the scalp.
For dry and coarse hair; Dab excess moisture from the hair with a towel. Apply the moisturizer directly to the hair, working up from the ends. For extra moisturizing, repeat the treatment or do not rinse the moisturizer.
RINSE Rinse the hair with ice cold water. For best results use our Controlled Chaos Hair Cleanser.
Ingredients: Water (Aqua), Cetearyl Alcohol [prevents emulsion separation], Cyclopentasiloxane [lubricant], Behentrimonium Methosulfate [eco-friendly lubricant that controls static by reducing friction], Cetyl Alcohol [gentle humectant that hydrates hair cuticle], Butylene Glycol [mold inhibitor], Amodimethicone [lubricating silicone that repels other silicones, prevents build-up], Cetrimonium Chloride [prevents static and build-up], Trideceth-12 [emulsifies Amodimethicone], Propylene Glycol [absorbs water, maintains consistency], Hydroxyethylcellulose [plant -derived amino acid, thickener], Disodium EDTA [preservative], Phenoxyethanol [preservative], DMDM ​​Hydantoin [preservative], Iodopropynyl Butylcarbamate [preservative], Dimethyl Sulfone [improves appearance of hair and nails], Aloe Barbadensis Leaf Juice [closes cuticle for smooth hair], Butyrospermum Parkii (Organic Shea Butter) [nourishes and protects cuticle], Simmondsia Chinensis (Organic Jojoba) Seed Oil [improves shine], Car thamus Tinctorius (Saf fl ower) Seed Oil [lubricant], Olea Europaea (Olive) Fruit Oil [softener], Helianthus Annuus (Sun fl ower) Seed Oil [conditioner], Glycine Soy (Soybean Oil) [nourishes, improves shine], Cocos Nucifera (Cocoa ) Seed Butter [prevents frizz], Tocopheryl Acetate [softens and provides antioxidant protection], Cinnamidopropyltrimonium Chloride [protective UV absorber that improves combing properties, strength and mechanical behavior], Sun fl ower (Helianthus Annuus) Seed Extract [protects against free radicals], Ascorbic Acid [antioxidant], Hydrolyzed Soy Protein [nourishes], Lavandula Angustifolia (Lavender) Flower / Leaf / Stem Extract [calms and soothes], Anthemis Nobilis (Chamomile) Flower Extract [adds shine and luster], Rosmarinus Of fiinalis (Rosemary) Leaf Extract [conditioner], Camellia Sinensis (Green Tea) Leaf Extract [softener]
Controlled chaos cleanser
We launch our most popular product! This cleanser is a sulfate-free shampoo that gently cleanses the hair and also protects the natural moisture and fat balance of the scalp. With this shampoo you will enjoy your colored treated hair for longer.
Little to no foaming gentle cleansing for all hair types
Free from gluten, sulfates and parabens, packed in a BPA-free package
Rich cream with a hint of jasmine
pH value of 5.93 for cleaning
THE MOST BEAUTIFUL HAIR IN THREE STEPS.
APPLICATION Use this cleanser to cleanse and soothe the scalp. The cleanser protects the natural oils and the moisture balance of the skin. This pH-balanced formula also protects against color-treated hair.
CLEANING Massage the cleanser on the scalp on wet hair. Do not apply directly to the points.
RINSE Rinse hair thoroughly with lukewarm to cold water and repeat if necessary. For best results use then also Controlled Chaos Hair Moisturizer.
Ingredients: Water (Aqua), Disodium Laureth Sulfosuccinate [mild anionic surfactant used to clean oils from the scalp], Sodium Lauroamphohydroxypropylsulfonate [mild surfactant], Isostearamidopropyl Morpholine Lactate [conditioning agent], Cocamide MIP [foam stabilizer], Polyquernium-11 [condition ], Glycol Stearate [gives formula pearlized appearance], Amodimethicone [silicone that lubricates the hair to repel other silicones and prevent build-up], Cetrimonium Chloride [helps prevent static and build-up in the hair], Trideceth-12 [an emulsifier used to emulsify Amodimethicone], Propylene Glycol [humectant], Dimethyl Sulfone [promotes healthy looking hair and nails], Fragrance [improves sensory experience], PEG-12 Dimethicone [silicone-based polymer that improves wet and dry combing in addition to imparting a silky, soft feel to the hair without build-up even after repeated wash cycles; provides the properties of conditioning, emollience and de-tackification in both body and hair products; adds shine], Acrylates / C10-30 Alkyl Acrylate Crosspolymer [thickener], Ethyltrimonium Chloride Methacrylate / Hydrolyzed Soy Protein Copolymer [enhances volume without triggering frizz]